Have you been invited to your first Live Interview and not sure about what to expect? We are here to help!
Live online interviews are a great way for employers and candidates to connect with each other remotely. Getting ready is easy, just follow the simple steps below.
Index:
What is a Live Interview?
A Live Interview is a real-time online interview in which you can connect face to face with up to 3 interviewers using your computer or mobile phone. Some employers may also allow you to connect via a phone call.
What do I need?
In order to take a Live Interview, you will need the following:
Using your computer:
Camera, built-in or USB
Microphone (If you have a built-in camera, you will also have a built-in microphone)
Good Internet connection
Using your mobile device:
Accessing your Interview
You will receive an email invitation with the link to your interview, which will take you to your interview page with the name and date of your scheduled interview.
The Interview Room will open 60 minutes before your scheduled interview time. We recommend accessing your interview as soon as the room opens so that you can test your camera, microphone and speakers beforehand. If you experience any issues, our support team will be available to help you through our live chat. You can then exit the interview and re-enter when it is time to begin.
Once you accept the terms of service, a system test will be run to check your connection and hardware, and you may need to allow access to your camera and microphone.
Once you pass the system test, you will be taken to the Lobby, where you will find some useful information and you can finish configuring your microphone and camera.

If you cannot see yourself, you can select a different camera from the dropdown menu. The audio bar should light up to indicate that your microphone is working correctly. If not, you can select a different microphone. You can also click the link to test your speaker volume and adjust if necessary.
The Lobby screen will also show you who will be joining the interview and you must enter your full name in the box provided.
Now you can click Join and you will be taken to the Waiting Room where you will wait for the other participant(s) to join.
You can also choose to join the interview on your own by clicking the link at the bottom of the screen.
You are now ready to start your interview in the Interview Room!
During your Interview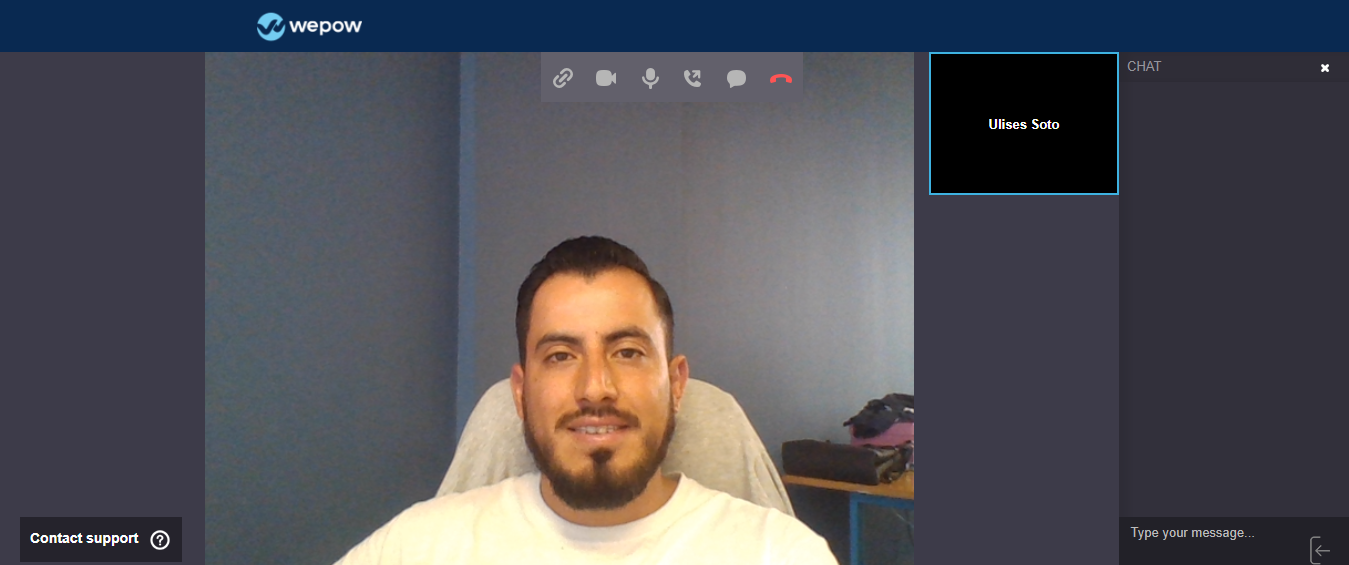 Once you are in the Interview Room, you will see a toolbar with the following options during the interview:
| | |
| --- | --- |
| | Copy the link to the interview |
| | Turn your webcam ON/OFF |
| | Turn your microphone ON/OFF |
| | Hide/show the text chat column |
| | Join by phone* |
| | Hang up and conclude the interview |
*This option will provide you with a phone number and access code to switch to a phone call during the interview https://support.wepow.com/hc/en-us/articles/360021426314
Useful tips
Our top tips are:
We also recommend using the latest versions of either Chrome or Firefox since they don't require additional software (IE requires the OpenTok plugin to be installed).
If you experience an echo during your interview, please read this article: https://support.wepow.com/hc/en-us/articles/360021604853
Close any other app or window that might be using your camera and/or microphone, remember only one resource can use your devices at a time.
GOOD LUCK WITH YOUR LIVE INTERVIEW!
You can contact our Support Team at any time through our live chat for fast assistance.