| | | | | | |
| --- | --- | --- | --- | --- | --- |
|   | Owner |   | Administrator |   | Interviewer |
So you have created a WePow interview and invited candidates to take it. After couple of days have passed you come back to your interview and realize that some of your candidates haven't completed it yet. Of course you are wondering what has happened to them: Did they see the email invitation? Did they click on the invitation link? Did they start the interview process? Fortunately, there is way for you to know where each of your candidates is in the video interviewing process.
When you pull the list of candidates for a given position and click on the Incomplete filter, a column labeled Status will appear.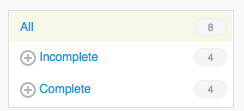 This sortable column indicates where your candidate currently is in the interview process.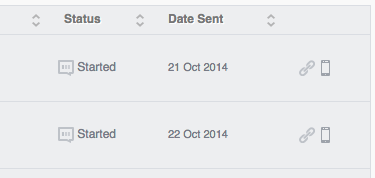 Here is a list of possible values for the candidate interview status:
| | | |
| --- | --- | --- |
| | New | The candidate has been created in the system and the email invitation queued for delivery. |
| | Invite Sent | The interview invitation email has been sent out to the candidate. |
| | Delivered | The invitation email was successfully delivered to the receiving server (please note that this status does not guarantee that the invitation made it to the candidate's inbox). |
| | Bounced | The receiving server rejected the message. This may be the result of an incorrect or suspended email address. Full inboxes also cause interview invitations to bounce. |
| | Viewed | The candidate opened the email with the interview invitation. |
| | Link Clicked | The candidate clicked on the interview invitation link. |
| | Started | The candidate has began the interview but has not completed all of the interview questions. |
| | Completed | The candidate responded to all the interview questions. |
Did you notice that you can filter candidates based on their interview status? When you activate the "Incomplete" filter, you'll get more filtering options, each of them corresponding to a status explained before.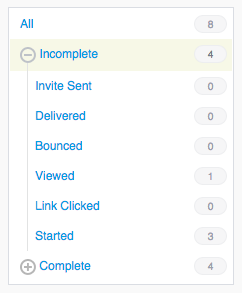 This will allow you to quickly identify and perform actions on candidates with the same status. For example, you can list all candidates with "Bounced" invitations and resend their invitations.