Video interviews are usually simple and easy to take from your desktop computer or laptop.
However, sometimes you may face some technical issues and we are here to help you resolve them as quickly as possible.
Index:
Preparing for your interview
Once you receive the email inviting you to the interview, you may have lots of questions about what to expect from the interview and how to complete it. Most of this information can be found in the article How to rock your video interview, which we recommend reading first to get an overview of the process. Read it here: https://support.wepow.com/hc/en-us/articles/115000721388
Configuring your system
The Setup section of the interview will help you to make sure your camera, microphone, and connection are all working correctly in order to take the interview. The setup process will slightly differ depending on which browser you are using.
Using Chrome

or Firefox 

browsers: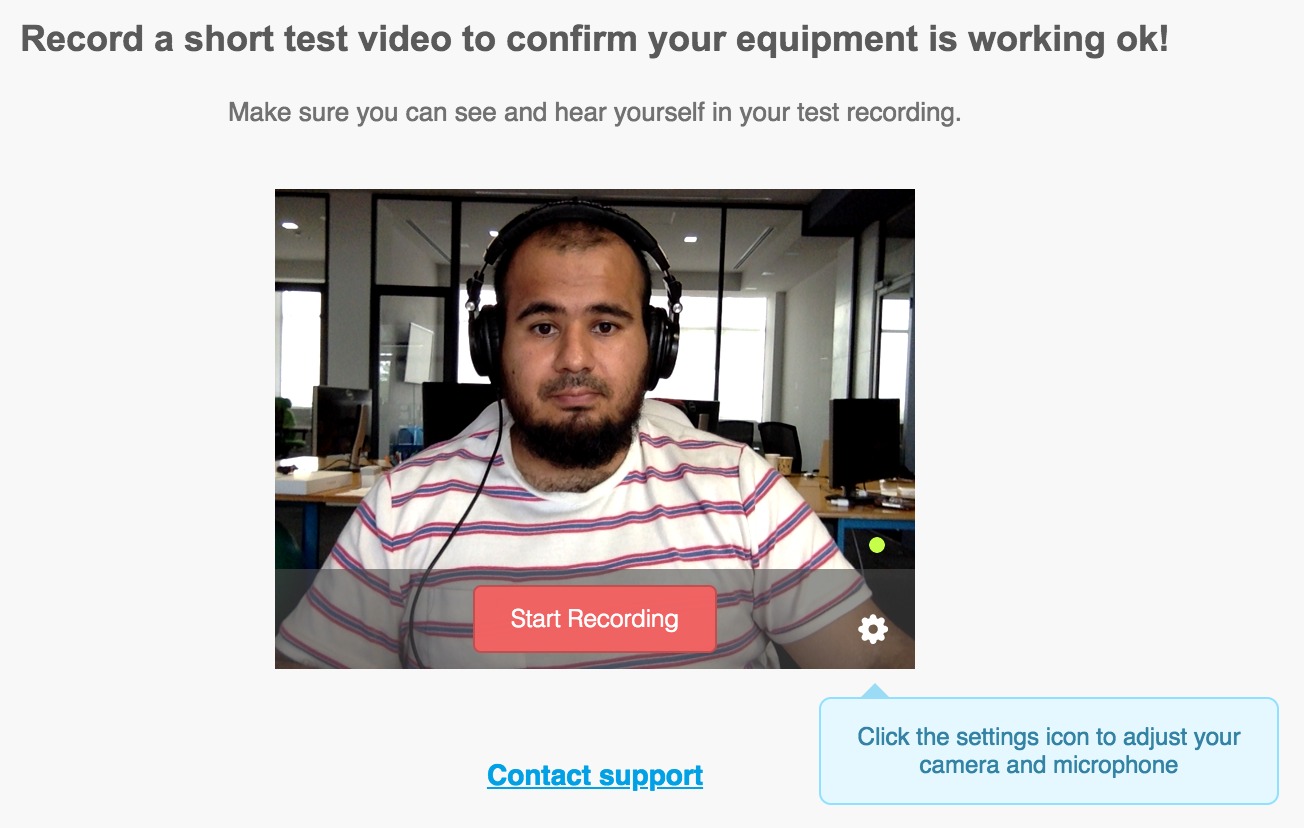 A small popup window will appear immediately asking you to give permission for the platform to use your microphone and camera, please click 'Allow'.
You may have more than one camera or microphone installed. If this is the case, you can make sure you have the correct one configured, and switch if necessary, by clicking on the gear icon in the right bottom corner of the video screen.
You can now record a short test video to check your microphone and camera are configured correctly. Once you have recorded this, we recommend playing the video back to check the audio and image. If you are not happy with the quality, you can click on the gear icon to switch to another option.
The next step is a system test to check your connection to the Wepow server. If there is a problem with the connection, an error message will appear with basic troubleshooting steps. However, if you require further help please contact our 24/7 Support Team.
All set! You can now continue to the practice questions or begin your interview.
Using Safari

, Internet Explorer 

or Edge 

browsers:
When using these browsers, the system will first run a test on your software, network, and hardware to check everything is running as it should be.
If this is your first time using Wepow, you may be asked to install or unblock Flash Player in order to proceed.
Once the system requirements are verified, you will now be able to check that your microphone and camera are working correctly. You will first be asked to confirm that you can see yourself on the screen and then you will be asked to speak to test the microphone quality and volume. Make sure you speak up so that the microphone can detect your voice, the volume level must reach at least minimum level.
You can now record a short test video to check your hardware is working properly. If you need to switch to another camera or microphone, you can click the gear icon to change these settings.
All set! You can now continue to the practice questions or begin your interview.
Useful Tips
We recommend using the latest versions of Firefox or Chrome. These browsers perform better with our platform and they do not require Flash Player, whereas Internet Explorer, Safari, and Edge do require Flash Player to record a video.
Older versions of Firefox and Chrome may require Flash Player as well. We highly recommend using the latest versions available.
Before starting your interview, and to avoid any issues during the setup stage, close any other app that may also use your camera and/or microphone.
If you experience any problems with Flash Player, take a look at this article: https://support.wepow.com/hc/en-us/articles/201908327
If you are using a Lenovo computer take a look at this article first: https://support.wepow.com/hc/en-us/articles/115004548528
Once you have completed your interview you will receive a confirmation email.
You can contact us at any time and chat with us in real time about any problem you may be experiencing by clicking on the Help button on the right-hand side of the screen.